September 1, 2017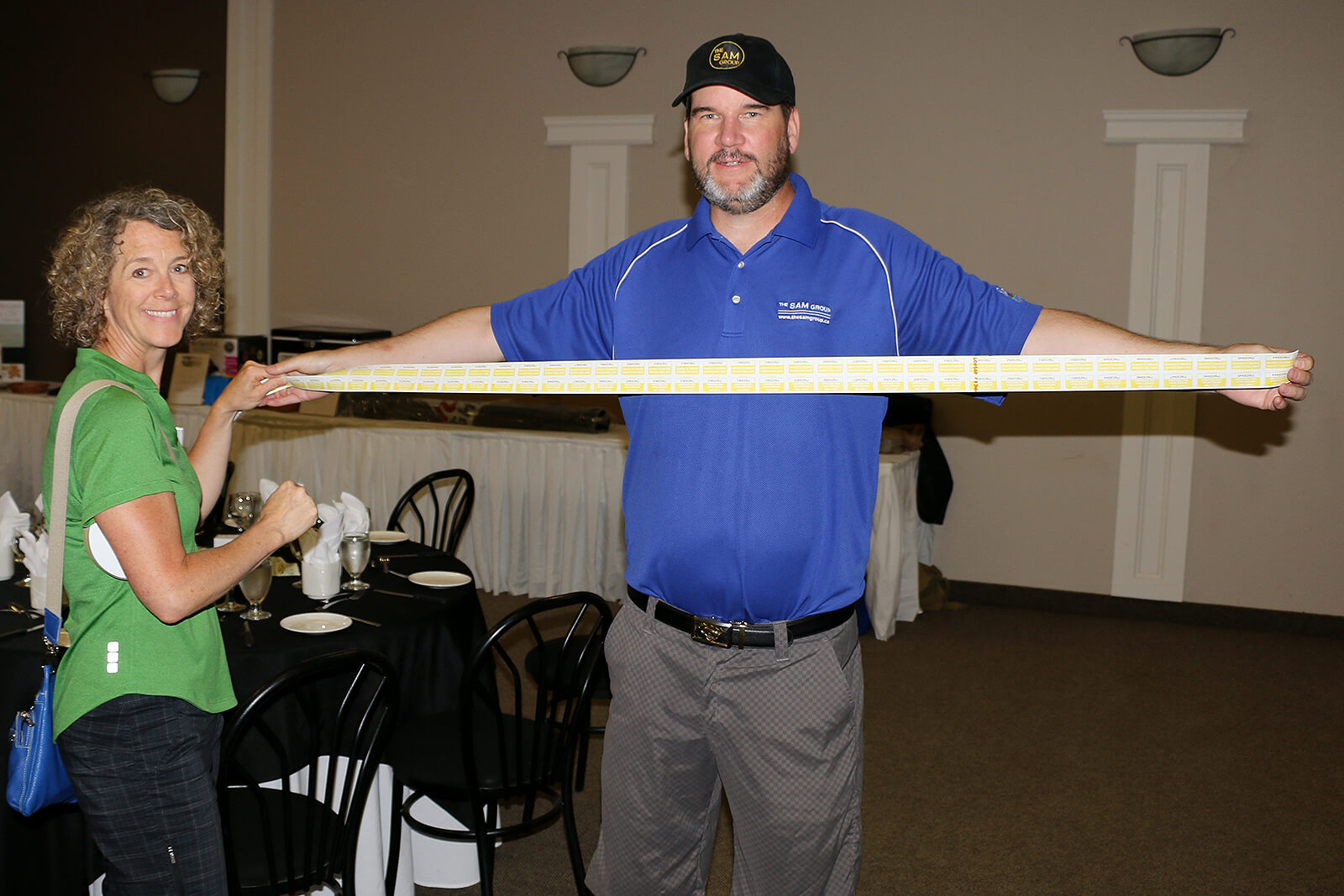 Ottawa Chapter raises over $10,000 for CHEO
Over $30,000 raised since 2013
Landscape Ontario's Ottawa Chapter held their annual charity golf tournament at The Meadows Golf and Country Club, in Gloucester, Ont., on July 27. Presented by Geosynthetic Systems, tournament proceeds benefit the Children's Hospital Eastern Ontario foundation (CHEO). Blue, sunny skies and a slight wind made it the perfect day for the 86 registered golfers who came out to support this worthy cause.

Tournament organizers had a fundraising goal of $6,620 for this year's event, which would realize a milestone of $30,000 raised by Ottawa Chapter members for CHEO since 2013. Golf committee members Chris Urquhart, Randi Lee Bell and Steve Montcalm, worked diligently to ensure everything went smoothly throughout the day. In the event of inclement weather, each golfer was given a windbreaker upon check-in, as a thank you for participating in this year's tournament.

The day began with fun team photos with the CHEO Bear mascot and the putting challenge, sponsored by Sontrac Equipment. Golfers were treated to a great barbecue lunch, sponsored by B&T MacFarlane, that consisted of burgers, hot dog and salads, before heading out on the course.

All sponsorships were sold out prior to the tournament this year — a first in recent history for the Ottawa Chapter. This year, new sponsorships included; Best Foursome Score at a Mystery Hole, sponsored by Greely Sand and Gravel; a Lemonade Stand, sponsored by Bradley's Commercial Insurance; and a specialty coupon booklet with proceeds directly donated to CHEO. Cohen and Cohen Natural Stone were the exclusive golf cart sponsor. Premium hole sponsors included: Manderley Turf Products, Vanden Bussche Irrigation and Equipment, Unilock, Plant Products, Mosquito Buzz by Nutrilawn, Turfgrass Canada, and Surgenor Truck Centre. Additional hole sponsors included: Geosynthetic Systems, Yates Sprinklers, Manotick Tree Movers, Permacon - an Oldcastle Company, Draglam Salt and Hort Protect Insurance.
The CHEO Bear visited golfers throughout the day.
---
Dinner, sponsored by Gifford Associates, included both sirloin and chicken breast buffet. Many attendees commented on how much they appreciated the choices for the meal.

Women's and Men's Closest to the Pin, sponsored by Malmberg Truck Trailer, were Randi Lee Bell, and Gerry Chenier respectively. Women's and Men's Longest Drive, sponsored by KOTT Group, were Trish Ferguson and Patrick Yates respectively. Closest to the sprinkler head, sponsored by Vanden Bussche Irrigation and Equipment was Marty Kleiss. The Most Honest Foursome was awarded to the team from Gifford Associates, and Best Foursome was a tie between Team Permacon and Team Go Mobile.

The success of the event would not have happened if not for the tremendous support of this year's golf committee and the many great volunteers, including: Sharon Rouette Urquhart, Lindsey Ross, and Jerome Hamilton. This year's tournament raised in excess of $10,000 for CHEO, surpassing the committee's goal of $6,620.
---

TITLE SPONSOR: Geosynthetic Systems
DINNER SPONSOR: Gifford Associates Insurance Brokers
LUNCH SPONSOR: B&T MacFarlane
GOLF CART SPONSOR: Cohen and Cohen Natural Stone
LONGEST DRIVE SPONSOR: KOTT Group
CLOSEST TO THE PIN: Malmberg Truck Trailer
BEST FOURSOME SCORE AT A MYSTERY HOLE: Greely Sand & Gravel
PUTTING GREEN CHALLENGE: Sontrac Equipment
LEMONADE STAND SPONSOR: Bradley's Commercial Insurance
HOLE SPONSORS: Manderley Turf Products
Permacon - an Oldcastle Company
Unilock
Vanden Bussche Irrigation & Equipment
Manotick Tree Movers
Yates Custom Sprinklers
Turfgrass Canada
Plant Products
Surgenor Truck Centre
Nutrilawn Mosquito Buzz
Draglam Salt
Hort Protect Insurance