August 15, 2010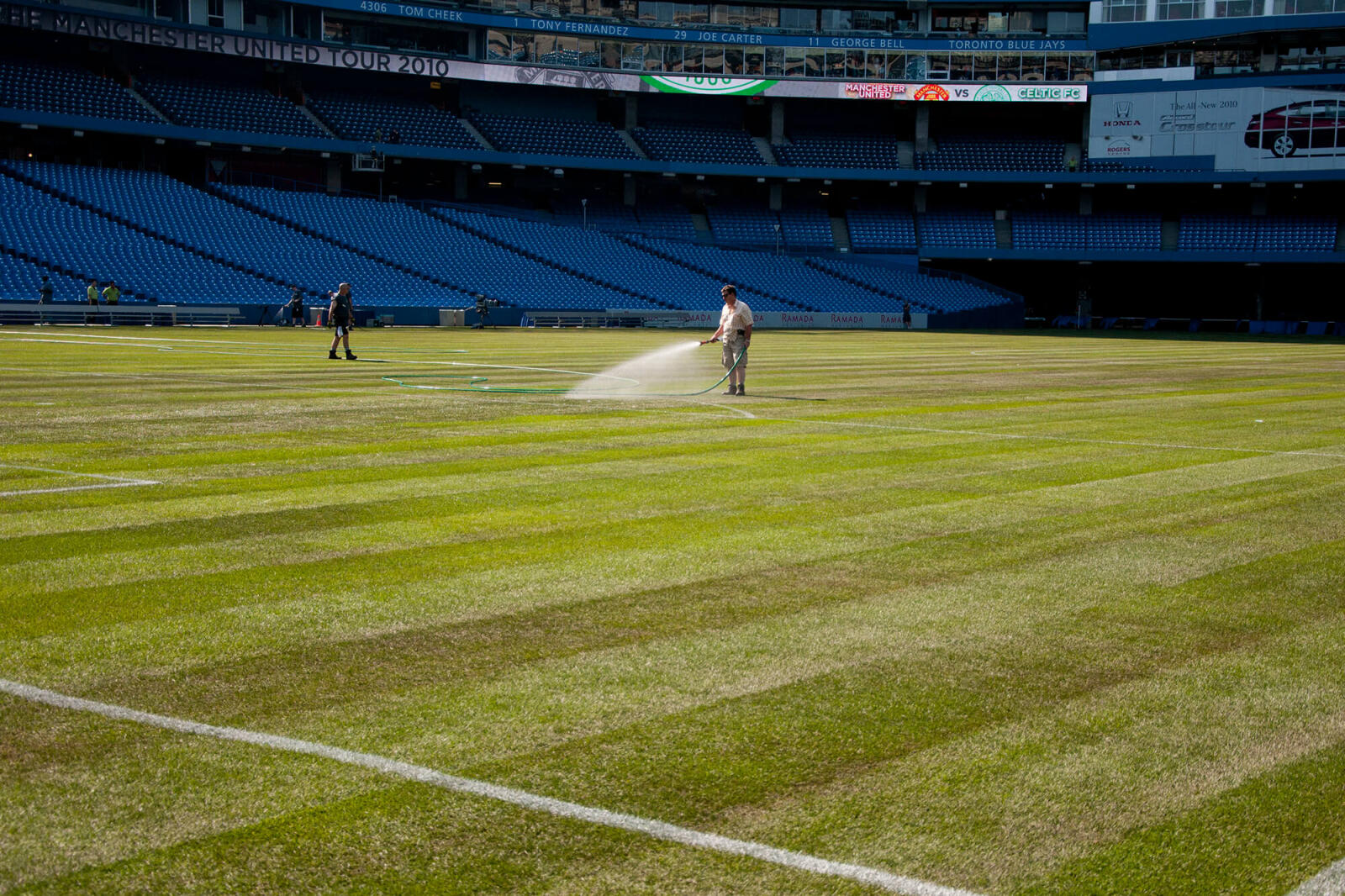 Ontario sod on the world stage
Denis Flanagan CLD
Director of public relations and membership services
On July 16 two of the top soccer (football) teams in the world, Manchester United and Celtic Football Club, played an exhibition game at the Rogers Centre in Toronto.
Working with LO's public relations company OEB, Ian Service and I covered the match at field level as part of the 100 members of the press.
The top soccer teams in the world insist on playing on real grass. Artificial turf is not conducive to the game at this high level. The ball reacts differently, the surface can get too hot and players find it hard to tackle properly and safely, particularly when sliding.
As part of the contract to host the exhibition soccer match between these two famous teams, the Rogers Centre had to take up and store its artificial mats and install real grass for the day.
It is quite the job to remove a vast field of the artificial surface, then temporarily replace it with real turf, where world-class athletes will trample it over the course of 90 minutes. The goal was to have the complete installation of over 100,000 square feet done in less than 12 hours.
Who better to trust than one of our own LO professional members, Greenhorizons, the successful bidder for the job? This is a quote from the company's website:
"Before the game, the pitch was inspected by the officials and the managers from both clubs. The green light was given and at 7 p.m. the real test got underway, when 22 world-class players stepped out onto Ontario-grown sod.
"Over 40,000 fans and media reps from several different countries watched an exciting 90 minutes of play with Man United winning the game three goals to one."
Peter Rauwerda, Greenhorizons operations manager, said, "I am excited to have been involved with the Rogers Centre installation. It was enjoyable to see how the entire Greenhorizons staff was energized by such a project. These are things that we do on a daily basis, but to be part of something that is so much in the public eye brings new excitement to what we do."
Our industry scored big time, when at the post game press conference, Sir Alex Ferguson, probably the world's most respected and celebrated soccer manager, was asked what he thought about the playing surface. In a broad Scottish brogue, he confirmed that he was very impressed.
As Manchester United moves on to play in three other North American cities — Philadelphia, Kansas City, and Houston — we should be very proud of our industry. LO members and sod growers know that we can compete and shine in the big leagues.
---
Denis Flanagan may be contacted at
dflanagan@landscapeontario.com
.