January 15, 2015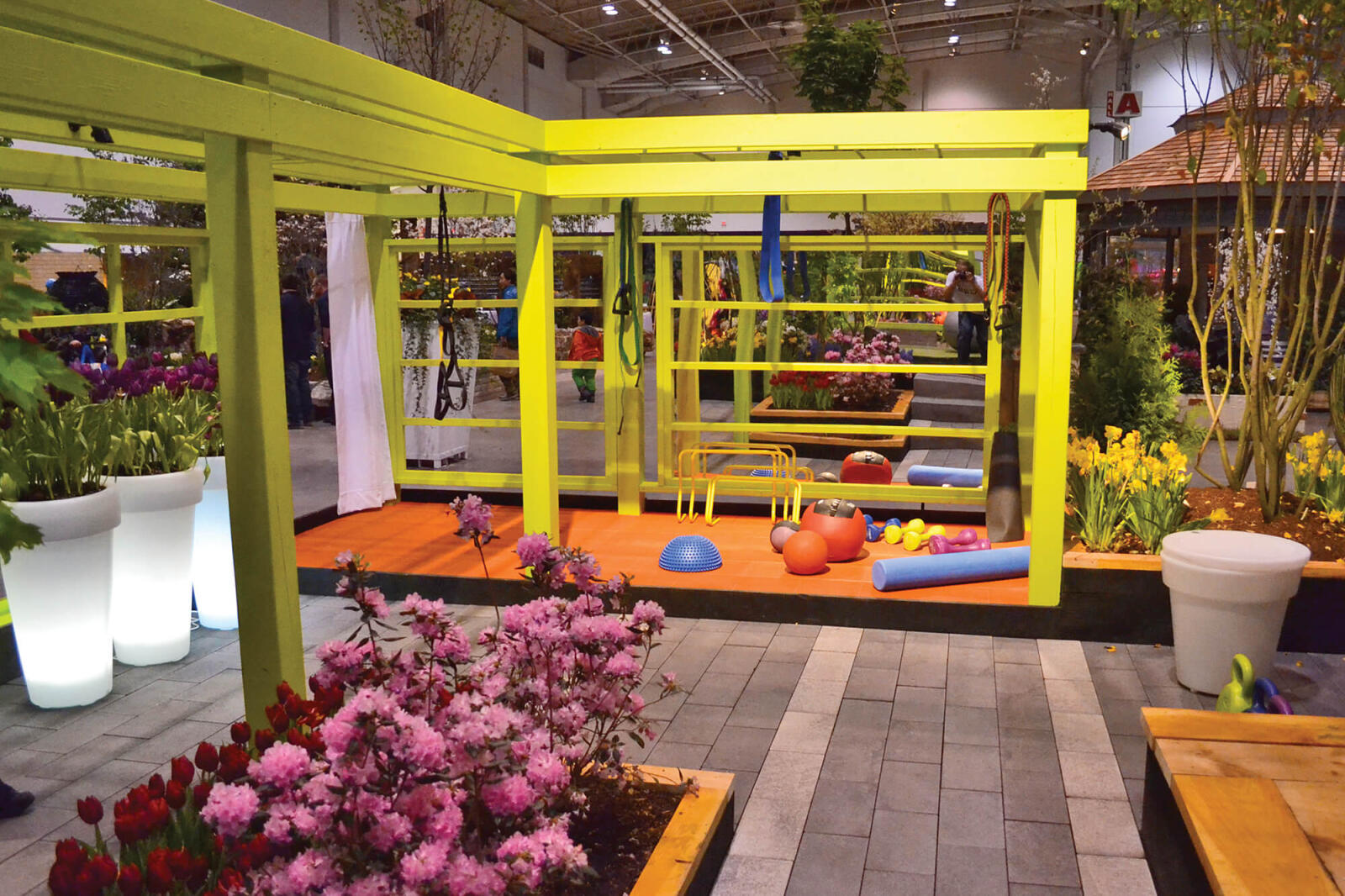 LO's Canada Blooms garden will promote outdoor exercise
By Shawn Gallaugher
The theme for Canada Blooms 2015 is 'Let's Play,' and the Landscape Ontario Otium Outdoor Exercise Garden will fit the theme to a T.
Otium is a name that I have trademarked for outdoor exercise gardens. It is a word used in early Greece to describe the down time soldiers had between battles in which they would pursue activities to keep active and physically fit. Again, the word was used in early 17th century Italy to describe an outdoor pavilion that was in the landscape and separate from the estate where people went to exercise.
Easy on the eyes and tough on the body, the innovative landscape concept combines a form of boot camp style exercises performed in the garden to strengthen one's health, well being, and connection to nature.
The concept for this year's LO garden differs from traditional exercise parks that sport outdoor exercise equipment. Visitors will see an outdoor exercise circuit with features that are strategically designed for a range of fitness levels.
I primarily design gardens for residential and recreational properties. While working for some professional athletes and health conscious clients, I started to include exercise programs into the landscape design. The exercise programs are very unique experiences because they are specific to the topography and conditions of a site and a new way to enjoy the garden.
Landscape features in an Otium Outdoor Exercise Garden are designed to support an entire range of outdoor activities and exercises. For instance, in the Landscape Ontario Otium, banding patterns in the patio will define distance markers to perform warm up and cardio exercises. Paving patterns will also take the form of a ground ladder in which to step and jump on. Posts and railings are to be used for stretching, and various features will allow bands and suspension training systems to be attached to them for a full upper body workout.
Landscape structures with exposed beams or brackets will support ropes that are used to strengthen the body's core. Dip bars, monkey bars, and pull up bars will be further applied to the landscape structures. The cool down area is a zen-like space immersed in the garden and is used for stretching, meditation, and yoga. The organization of space, use of materials, and designed landscape features of the Landscape Ontario Otium will allow for a diverse range of warm-up, cardio, power training and cool-down areas.
Landscape features in the Landscape Ontario Otium will be multi-functional to support a range of outdoor activities and exercises. Retaining walls and benches will be placed at different heights to open the fitness program to various levels for power and cardio training.
The garden will have a natural stone rock climbing wall built by Dean McLellan, an outdoor sports court that functions as a terrace, areas for group or personal exercising and intimate garden settings with water features for meditation and yoga.
The Otium shall accommodate beginner, intermediate, and advanced workouts and promote the upcoming PanAm and Parapan Games. The exercise program itself will offer an endless combination of exercises and routines that can be done at various stages of difficulty, and appropriate for people of all ages and fitness levels.
Train like an athlete in the Landscape Ontario Otium Outdoor Exercise Garden. The workouts will utilize the landscape design features to achieve a full body workout that improves all aspect of fitness. Each component of the workout has a different focus but together the program helps to improve strength, cardiovascular conditioning, muscular endurance, co-ordination, flexibility, and speed.
Recent research, published by the Peninsula College of Medicine and Dentistry in collaboration with the European Centre of Environment and Human Health, states that participants exercising in natural environments have greater feelings of revitalization, increased energy and positive engagement, together with decreases in tension, confusion, anger, and depression. The study also stated that participants reported greater enjoyment and satisfaction with outdoor activity and stated that they were more likely to repeat the activity at a later date.
The power of the Landscape Ontario Otium at Canada Blooms is that it has the potential to demonstrate how to improve one's physical and mental health through outdoor exercise. The benefit of this is that it has the potential to shift the way our society presently exercises and reconnect people to the outdoors.
The Landscape Ontario Otium can be viewed at the 2015 Canada Blooms Festival, Mar. 13 to 22, at the Direct Energy Centre in Toronto. Jeremy Feenstra from Floristerra Greenhouses and Landscape Centre is leading the build of the garden and Landscape Ontario is calling on volunteers to become involved in the construction of the garden between Mar. 6-12. Contact Sally Harvey at
sharvey@landscapeontario.com
if you are interested in becoming involved in the LO garden build.
Shawn Gallaugher is owner and designer of Shawn Gallaugher Design of Aurora. He has taken on the task of designing the Landscape Ontario garden at Canada Blooms.