July 9, 2018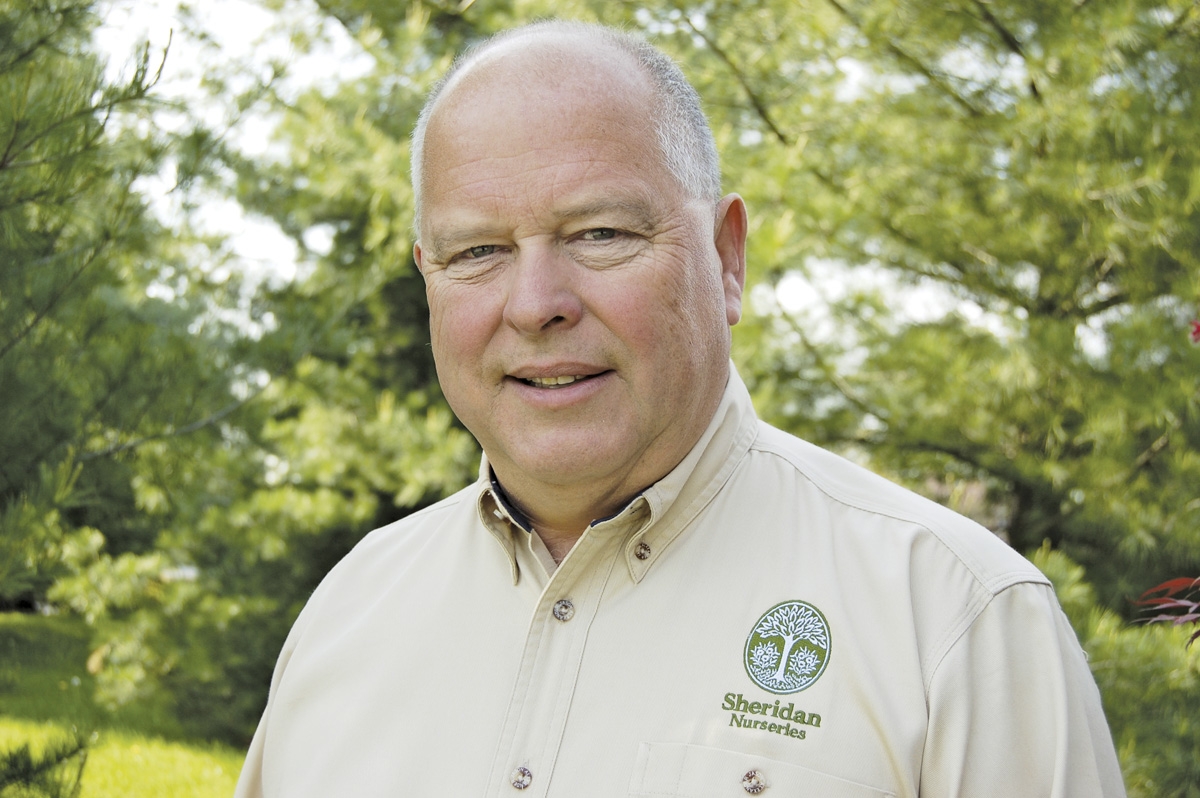 Karl Stensson to retire from Sheridan Nurseries
After a career spanning five decades, Karl Stensson, CEO and President of Sheridan Nurseries, recently announced he will be stepping down. In announcing his retirement plans, Stensson stated, "It has been an honour to have worked with so many talented and dedicated people at Sheridan to help the company grow into the leader that it is today."
Stensson spent eight summers working in Sheridan garden centres during high school and university. After graduating with a Bachelor of Landscape Architecture from the University of Guelph, he joined the City of Toronto as a parks planner and shortly thereafter moved to the City of North York as Coordinator of Park Planning and Design.
In 1976, Stensson answered a call to return to Sheridan as Wholesale Sales Manager and remained in that position until he took over retail operations in 1984. He was later appointed V.P. Retail Operations and subsequently became President in 2009 and then CEO and President in 2015.
During his career, Karl was a staunch industry supporter, serving on the Landscape Ontario Board of Directors from 1978 to 1985, becoming president in 1979. He also served on the board of the Canadian Nursery Trades Association from 1978 to 2001(which later became the Canadian Nursery Landscape Association), becoming president in 1989-1990.
Karl furthered his association involvement by becoming president of the Landscape Ontario Horticultural Trades Foundation from 1982-1984 and president of the Canadian Garden Council in 1991-1992. Stensson has served on the LO Insurance Committee for over 30 years and as Chair of the Landscape Ontario Building Committee for the past 12 years.
The Frank Ewald Jr., Nursery Award in 1980, presented to a person under 30 years of age, for outstanding contribution to Landscape Ontario.
The Landscape Ontario Trillium Award in 1994 for outstanding support of the horticultural industry and Landscape Ontario.
Honorary Life Member of Landscape Ontario in 1998.
CNLA President's Award in 2010 for lifelong and outstanding contribution to the industry.
Most recently, Karl was honoured in 2015 as being the University of Guelph Alumnus of Honour for "achieving excellence through outstanding accomplishments and exemplary contributions to society that bring credit to the University of Guelph."
Over the past few months, The Board of Directors of Sheridan Nurseries have conducted an extensive search for Karl's replacement. Sheridan Nurseries is pleased to announce the appointment of Colin Cruji as CEO and President of the company.

Mr. Cruji's extensive experience includes Senior Vice-president of Canada Bread Company, a division of Grupo Bimbo, where he was responsible for national retail and field sales as well as leading Stonemill Bakehouse.

Mr. Cruji received an Honours Bachelor of Business Administration and an Executive MBA from the Richard Ivey School of Business at the University of Western Ontario.

Karl will continue in a reduced capacity as Vice Executive Chairman and Director of Brand Integrity for Sheridan.

With his extra time, Karl will be pursuing positions on corporate boards as well as spending time golfing and cooking with his wife Valerie and spending a lot more time with his four (soon to be five) grandchildren.

Sheridan Nurseries has been a grower and purveyor of quality plant material for the landscape industry and gardening public since 1913. With a proud heritage and legacy for innovation, Sheridan Nurseries has grown to be one of Canada's largest growers of hardy nursery plants and has eight renowned garden centres in the Greater Toronto Area.

Colin Cruji