August 15, 2011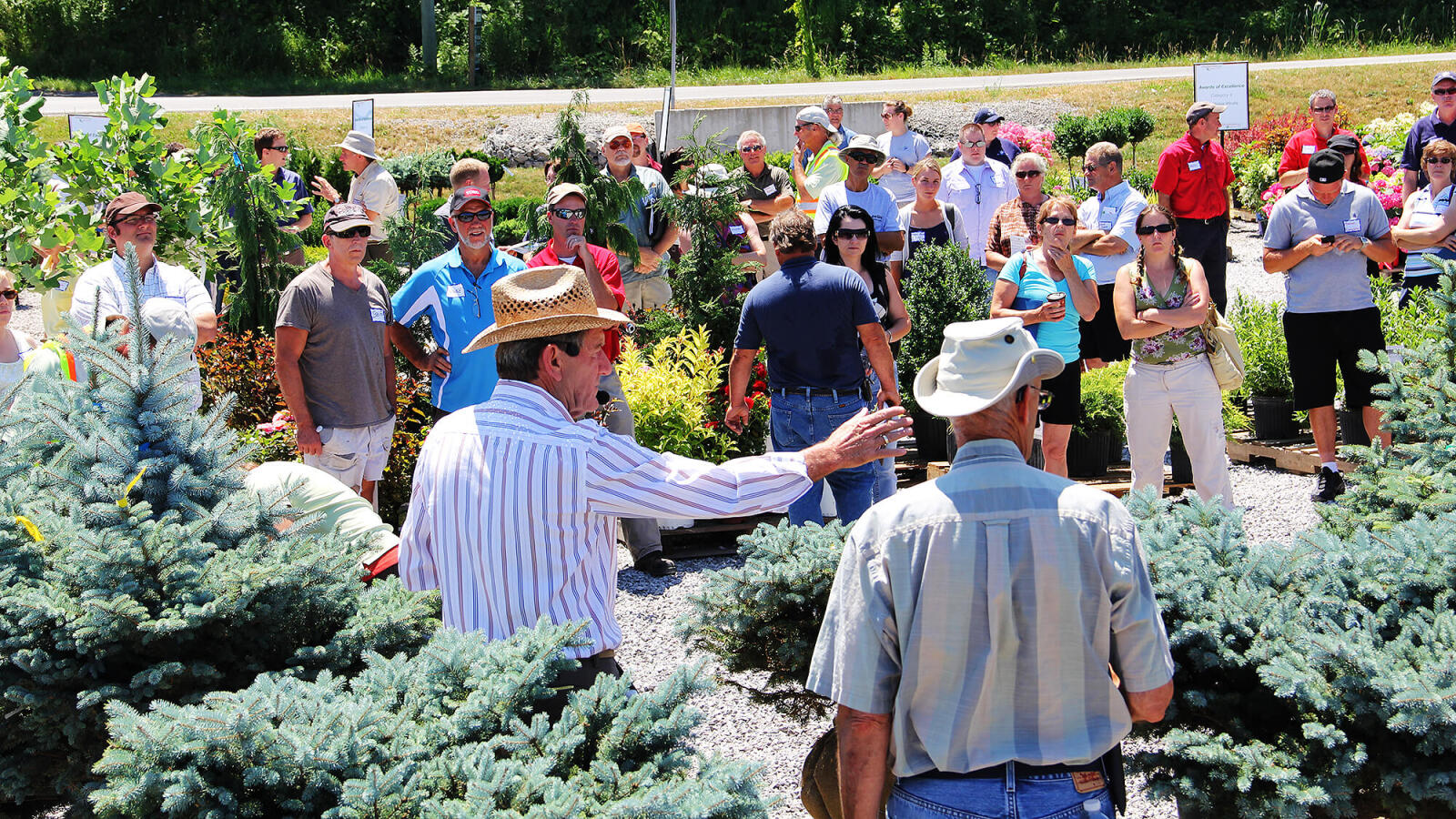 Auction in wine country raises over $20,000 to help industry
The best of plant material, cash give-aways, free draws, wine samplings and over $20,000 to help with horticultural research and scholarships was all part of the annual Industry Auction.
Formerly known as the Growers Research Auction, this year the name was changed to reflect more of the industry. It took place on July 14 at Blue Sky Nursery in Beamsville.
The Growers' Awards of Excellence entries were judged in the morning and the winners announced at the end of the auction. An Awards of Excellence certificate went to each of the 12 winning lots, which were then auctioned off. The winners will again be recognized during the Retail Garden Centre program luncheon held at the Toronto Congress Centre on Oct. 19, in conjunction with Expo.
Special appreciation goes to the dedicated members of the awards judging panel, who offered their time and expertise: Jen Llewellyn, OMAFRA; Glen Lumis of the University of Guelph; Len Mancini of Holland Park Garden Gallery; Michael Pascoe, Fanshawe College; Rita Weerdenburg, CNLA, and Jim Lounsbery, Vineland Nurseries.
Each auction lot was assigned a raffle number, with all winning bids entered into a draw for a 40-inch LCD TV, donated by Plant Products, won by Dolores Delvecchio of Entire Landscapes who held the winning ticket.
With the auction being held in wine country, a special attraction this year was the wine sampling courtesy of Vineland Estates. Lunch was generously sponsored by the host, Alice Klamer of Blue Sky Nursery.
John Wright from the LO Foundation supervised the special fund-raising raffle draw. The grand prize of $5,000 went to Helmut Zgraja, while second prize of $1,000 was won by Maria Bau-Coote, and Del Cressman picked up the third prize of $500.
Organizers are grateful to Fanshawe College students and teachers for all of their help at the event. Appreciation also goes to Blue Sky Nursery for hosting the event, LO's Growers Group and LO staff for all of the hard work and support at the auction.
2011 auction donors
Product for the auction was generously donated by the following companies: Agrium Advanced Technologies, ASB Greenworld, Blue Sky Nursery, Braun Nursery, Canadale Nurseries, Canadian National Exhibition, Connon Nurseries/NVK Holdings, Downham Nurseries, Dutchmaster Nurseries, Engage Agro Corporation, Gro-Bark Ontario, Ground Covers Unlimited, Hillen Nursery, JC Bakker & Sons, Kam's Growers Supply, Langendoen Nurseries, Laurel Forest Farms, Living Carpet, M Putzer Hornby Nursery, Maple Leaf Nurseries, Mori Nurseries, Pieper Nurseries, Plant Products Co., Sheridan Nurseries, Somerville Nurseries, Syngenta Canada, Timm Enterprises, University of Guelph Laboratories, V Kraus Nurseries, Vineland Research and Innovation Centre, Willowbrook Nurseries and Winkelmolen Nursery.
The next event for the growers is their annual tour, scheduled for Sept. 15. At press time, no location had been determined.
Growers Award Winners, 2011
Category
Plants
Company
Judges' comments
Category 1
Evergreens - Field Grown Upright and Spreading
Picea pungens 'Neon Blue'
Mori Nurseries
Great colour, good uniformity, great impact, vigorous root system for establishment in landscape.
Category 2
Evergreens - Container Grown Upright and Spreading
Assorted evergreens
Mori Nurseries
Judges impressed with plant health, very clean, good colour, instant impact.
Category 3
Broadleaf Evergreens
Assorted broadleaf evergreens
Mori Nurseries
Nice colour, good impact, wonderful assemblage of colour, great scale.
Category 4
Deciduous Shrubs
Assorted deciduous shrubs
Mori Nurseries
Nice presentation, great quality, very good colour mix, great retail package.
Category 5
Deciduous Ornamental Trees 300 Cm Or Less
Liquidambar styraciflua 'Worplesdon'
Connon Nurseries/NVK
Good uniformity, great colour, interesting trees.
Category 6
Deciduous Ornamental Trees Top Grafted/Worked
Syringa meyeri palibaniana
Langendoen Nurseries
Excellent head, good uniformity, these are more mature trees and are more difficult to grow.
Category 7
Caliper Trees
Syringa reticulata 'Ivory silk'
Braun Nurseries
Good size trees, mature, nice form.
Category 8
Vines and Groundcovers
Assorted vines and groundcovers
Mori Nurseries
Well rooted, great quality, nice composition .
Category 9
Perennials
Assorted perennials
Connon Nurseries/NVK
Artistic composition, great quality, unusual perennials.
Category 10
Unusual and Rare Plants
Ginkgo biloba 'Bejing Gold'
Connon Nurseries/NVK
Really rare and unusual, unique variegation, great full colour.
Category 11
Design on a Skid
Display of assorted material
Sheridan Nurseries
Unique! Great presentation, very creative.
Judges' Choice
Assorted perennials
Connon Nurseries/NVK
Outstanding quality – well done!